Why Magic?




And, Why David Seebach?



With so many entertainment options, and even numerous magicians, to choose from, why should you select David Seebach's Wonders of Magic? Perhaps a few words from David will help.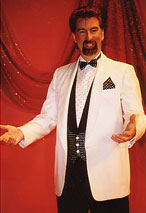 "I became interested in magic as a child and so I bring forty-plus years of performing experience to every one of my engagements. I graduated from University of Wisconsin in Milwaukee with a BFA from the Theatre Department where I was professionally trained. At college I did not learn any magic acts, but I did learn how to incorporate music, movement, costuming, and design into my magic acts.
"My clients, both in Milwaukee and out of the area, do not hire me to 'do' magic tricks for their guests, staff or the public. They hire me to present a show that is filled with entertainment: drama, humor, surprise and mystery.

"That's why I have fans who don't care at all about magic; they enjoy the comedy and theatrical experience.

"If anything, that is what sets me apart and makes my show so distinctive."

You'll discover, too, this unique midwest native performer with onstage charm, wit, and lots of humor that slyly lets the audience know that everything is for-the-fun-of-it.
If you're interested in the 2021 edition of David's Halloween 'Illusions in the Night,' you'll find more information under the MAGIC SHOWS heading at the top of this page.  Just scroll down and click on it.
Watch Milwaukee Magician David Seebach's Promo Video