2019 Summer Festival Appearances
David Seebach and his 'Wonders of Magic' will be featured once again at Milwaukee's Polish Fest and Summerfest in June and July.  This year's shows feature plenty of new surprises and several premieres, magic acts the magician has never performed before.
Most notable is a legendary, historic artifact from the world of sideshows and carnivals.  It's known as the Blade Box.  You'll witness thirteen blades pass through a coffin-shaped cabinet that a brave young woman has placed herself into.  There seems to be no way that a human body could evade this procedure, but, of course, she will.  The distinctive feature of this act is that spectators are given the opportunity to see exactly how she accomplishes this feat.  In the time-honored tradition of the carnival sideshow audience members can drop a tip/donation into a bucket to walk up and peer inside this classic.  This is going to be an accurate recreation of a historic piece of magical exploitation.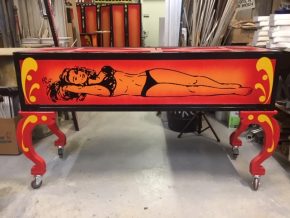 Another legendary act of magicians for centuries involves a woven wicker basket.  It's an act of East Indian origin and has been in Seebach's repertoires for decades.  The magician replaced his well-worn basket last Fall and the new one will make its Milwaukee debut at Polish Fest and Summerfest.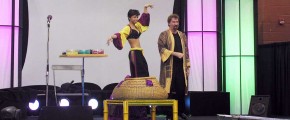 It wouldn't be a 'Wonders of Magic' presentation without plenty of audience participation.  Both youngsters and adults will have opportunities to join David onstage.  It's all live and unprepared so anything can happen.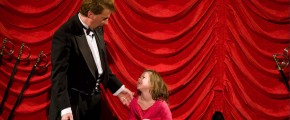 7:00 pm shows at Polish Fest on Friday and Saturday, June 14th and 15th are scheduled.  Eight performances over five dates at Summerfest are also on tap.
Colorful conjuring will also be part of all the shows.  Silk scarves will be featured in a patriotic interlude and every show will begin with a lavish Enchanted Garden as flowers appear and bloom until the stage is filled with an elaborate display.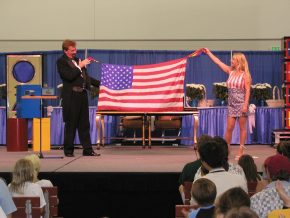 Several years ago David was introduced to a remarkable mystery with two wine glasses, a deck of playing cards and participation by an audience member.  This does not resemble any "Pick-a-card-any-card" sort of trick.  It's a straightforward miracle that Seebach maintains is one of the greatest card mysteries of all time, especially since it has multiple surprises during its conclusion.  And, the cards are large enough for al to see.  You'll be scratching your head about this one long after the show is over.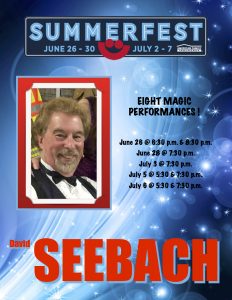 David will be joined by a lovely assistant and everyone will enjoy her colorful costuming and the delightful musical cues that add so much to the theatrical aspects of the 'Wonders of Magic.'
All the shows take place on the Children's Stage.  You will find a variety of entertainment on this stage… and it is not just for youngsters.