David Seebach's Illusions In The Night Halloween Magic Show was performed for the first time in 1991 and, for over 30 years, David has presented his potpourri of seasonal sorcery to Milwaukee audiences of all ages. The show has become a great family tradition for parents, children, grandparents, grandchildren, and great grandchildren. It's an annual event but the show always offers something new to surprise, delight and —perhaps— chill you. This year's almost-all-new repertoire is a perfect Halloween Treat that you'll enjoy at Sunset Playhouse!
You'll explore the séance cabinet from San Jose's infamous Winchester Mystery House to find out if the spirits really do return.  David will share and odd tale about his collection of roadside motel matchbooks… with a surprise twist.  And, it wouldn't be a magic act without dividing a lady onstage.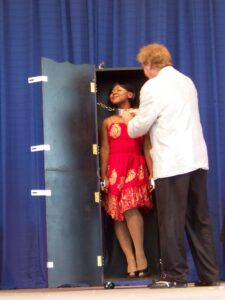 Yup, she's in there!
All seats are reserved and the venue features cabaret seating at tables with a full bar in the theater.  The show is appropriate for all ages and is about ninety minutes long in two acts.  Onstage audience participation is featured.
FRIDAY, OCTOBER 20 @ 7:30 pm
SATURDAY, OCTOBER 21 @ 2:00 pm & 7:30 pm
SUNDAY, OCTOBER 22 @ 2:00 pm
Sunset Playhouse
700 Wall St
Elm Grove, WI 53122
SunsetPlayhouse.com