For many years folks have flocked to Newburg, just north of Milwaukee for their annual Fireman's picnic.  Sure, they've offered beer, food and bands, but for 2018 they have decided to try something new… and VERY ambitious.
Many similar festivals will offer a magician, or similar 'family attraction, during the slow hours of an afternoon to have something for youngsters.  But the Newburg organizers have opted for a Saturday EVENING elaborate, two-act presentation of magic, comedy, audience participation and grand stage illusions.  David Seebach's Wonders of Magic is scheduled for 6:00 pm on Saturday, June 2nd.  David will be joined by several lovely assistants and share spectacular and colorful illusions with beautiful costuming and lots of music.  Audience members will have an opportunity to join David onstage in situations sure to evoke plenty of laughter.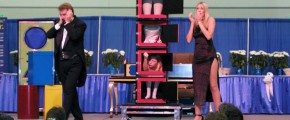 In addition David has invited two colleagues to share the stage with him.  They're both accomplished entertainers who will bring a completely different approach to prestidigitation to the event.  They are the lovely 'Princess of Magic,' Julie Sobanski and America's 'Animated Illusionist' Ardan James.
David has worked with lots of artists all over the world, but he feels these two local gems will perfectly complement his unique magical style.
Please join David, his cast and his guests for a wonderful evening of entertainment that promises to have something for all ages in quaint Newburg, WI.