David Seebach was invited to appear at Milwaukee's Summerfest for the first time in 1980. His performance must have been popular because he has been invited back every year since.  His 'Wonders of Magic' will appear six times over four days on Thursday, June 22nd, at 6:30 and 8:30pm, Saturday, June 24th, at 8:30pm, Thursday, July 6th, at 6:30pm and Saturday, July 8th, at 5:30 and 7:30pm.  Audiences will enjoy an almost hour-long program of stage magic, grand illusion, audience participation, comedy and Seebach's captivating stories and ad-lib humor. Summerfest is the World's Largest Music Festival.  It's on the shore of Lake Michigan in downtown Milwaukee.  Complete information is at Summerfest.com.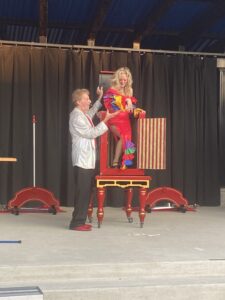 The illusionist, and assistant Karen, recreate
the Sword Cabinet Mystery on the
2023 Summerfest Northwestern Mutual Community Park stage.
Enthusiastic youngsters marvel at Seebach's Baffling Bulbs illusion.
How does he do it?