Much like the mythical Brigadoon, the tiny town of Colon (MI) blossoms the first week of August ever year for Magic Week.  The village may not have a motel, but its downtown boasts four (4!) distinct magic shops, three of which offer public shows!  It's all due to the flagship Abbott's Magic Co that began sponsoring an annual Get-Together 84 years ago.  Hundreds of magicians from around the world gather for the gala Abbott-sponsored potpourri of lectures, contests, a dealer room, impromptu demonstrations, street performers and nightly, formal magic shows on the high school stage.  David Seebach was only 21 years old when he was first invited to appear on the Friday night program.  Since then he has returned as performer, lecturer and emcee on multiple occasions.
On Saturday, August 6th, he will appear once again, this time as the closing act of the final performance.
Will he fool any of the hundreds of magicians in attendance?  "I don't know," he admitted.  "My goal is to entertain everyone and share my unique slant on presentation.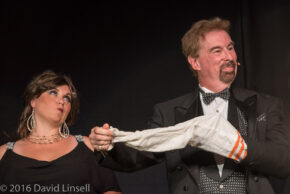 Here he is at the 2016 Abbott's Magic Get-Together with long-time assistant Nichole.