Milwaukee's Ethnic Festival season begins with the wonderful Polish Fest on Friday, Saturday and Sunday, June 16-18.  And, festgoers can once again be thrilled by the magic and surprises of David Seebach's 'Wonders of Magic' on both Friday and Saturday nights at 8:00 pm.  You'll find Seebach's show at the stage adjacent to the Children's Area.
Seebach has become a regular feature at Polish Fest and enjoys being asked back, year-after-year.
He keeps things fresh by unveiling new surprises annually and he has some mighty impressive magic 'up his sleeve' for 2017.
Baffling Bulbs, one of magic's grand stage illusions, has been out of the illusionist's rotation for a number of years.  This electrical 'nightmare' features 24 tubular light bulbs that visibly penetrate a lovely lady assistant.  You might say this very visual act is truly 'shocking!'
At the other end of magic's spectrum is some colorful magic from China.  You'll hear about a crooked gambling den with employees who wanted to teach their cheating bosses a lesson, but were thwarted by Chinese ghosts!  Seebach is confident it's a magic act you've never seen before… and may never again!  Besides a much more traditional act of Oriental legerdemain,  there's a compact cabinet that the illusionist's  aide squeezes into only to have the magician make her situation impossible!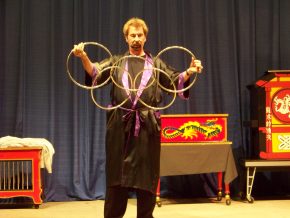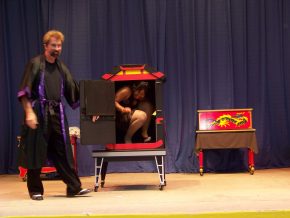 Of course all of David Seebach's shows feature plenty of audience participation and young magic fans will be invited onstage for an 'up close and personal' magic experience.  The show is not a 'kiddie' attraction; it's designed to appeal to all ages especially since this  favorite local entertainer has such a wonderful reputation and has many adult fans.
Polish Fest is held on Milwaukee's Summerfest grounds.  There's more information at www.polisfest.com and at 414.529.2140.