Known locally as 'The Big Gig,' Milwaukee's Summerfest (the world's largest music festival) holds it 50th anniversary run from June 28th through July 9th.  In what is most likely the record for most consecutive appearances, magician and illusionist David Seebach brings his 'Wonders of Magic' show to the Northwestern Mutual Life's and Milwaukee Children's Hospital stage for a 38th year.  Part of the secret to Seebach's success is that he has never repeated the exact same show in any two editions.  Like the playing cards he skillfully shuffles for sleight-of-hand wizardry, Seebach mixes the multitude of magic acts in his ever-expanding repertoire to delight young and old every year.
"This year's show features some acts that have only appeared at Summerfest once before, years ago, some popular old favorites and the return of one of magic's seldom-scene grand stage illusions," Seebach explained.
The stage is adjacent to the children's play area, but this popular entertainer has a strong following of all ages.  The show, while appropriate for youngsters, is just as appealing to adults… perhaps grown-ups who remember their parents bringing them to see the conjurer twenty, thirty or more years ago.
There's an exotic element to the 2017 edition: unusual magical effects from halfway around the globe.  There's a tale of father and daughter outwitting the evil ruler of Samarkand on the famous Silk Road and some historic magic lore with a fabled act of Hindu street fakirs, too.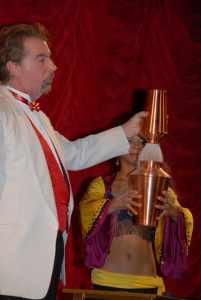 Seebach also includes plenty of audience participation acts for his young fans and his shows always feature a lovely lady assistant and plenty of humor and comedy.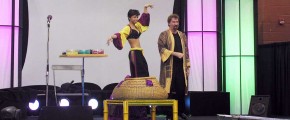 Dates and times: Wednesday, 6/28 @ 6:30 & 8:30; Friday, 6/30 @ 7:30; Saturday, 7/1 @ 5:30 & 7:30; Wednesday, 7/5 @ 6:30 and Friday, &/7 @ 5:30 & 7:30.