Milwaukee's Summerfest is back!  And, David Seebach's 'Wonders of Magic' is, too!  Seebach has appeared at every Summerfest since 1980.  That first year featured what might be called a 'rustic' platform stage.  But, by 1981's dates a new Children's Theater was constructed where the show appeared annually through 2019.
Now —for 2021— another new performing area has been constructed and it's to be Seebach's new home.  This stage is in the Northwestern Mutual Community Park, very close to the previous venues.
A new theater deserves a new show so David has conjured up several new surprises with acts never seen before, a couple favorites and some rarities that haven't been performed for quite a spell.
You can see his 'Wonders of Magic' on Thursday, September 2nd, at both 6:30 & 8:30 pm and then on Saturday, September 4th at 7:30 pm.  David and his lovely assistant, Karen, will reappear on Thursday, September 16th at 7:30 pm and finally on Saturday, September 18th at 5:30 & 7:30 pm.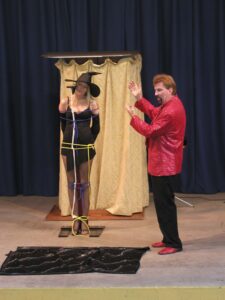 Milwaukee's favorite magician hopes to see YOU there!